Tips To Use Lemon Peel For Skin
#skin #lemon #lemonpeel #beautifulskin
Many of us have used the lemon juice for several skin remedies but seldom do we use the lemon peel for beauty.
As lemon peels are also rich in the vitamin C & many other nutrients, you cannot rule out the skin whitening & bleaching properties of these peels.
The next time when you compress the juice out of lemons, make it a point to dry those peels rather of throwing them away. Once those skins are dried up, you can grind them to get the fine powder.
That powder can be the best friend when following skin care methods. The benefits of the lemon peels go beyond whitening the skin.
Now, let us discuss some tips that help us exploit the lemon peel benefits for the skin. See few Tips To Use Lemon Peel For Skin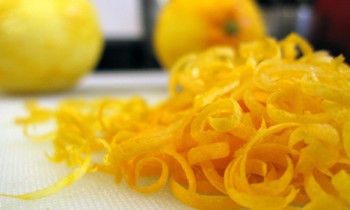 Tip: 1
Take any lemon peel powder in the small vessel & add some coconut water to it. The paste needs to have smeared on the areas where you have pimples on the face. Leave it on the face for a whole night & clean it in the morning. When you do this regularly, your acne breakouts & marks can be kept under the control.
Tip:2
For soft & silky skin, try this remedy. Mix the teaspoon of lemon juice & a teaspoon of lemon peel powder in a teaspoon of orange juice. The paste can have applied to the face and cleansed after 30 minutes.
Tip: 3
To prevent or treat wrinkles, add some lemon peel powder to some papaya juice. This mixture can have applied to the face and neck. After you clean the face, moisturise the skin with olive oil.
Tip: 4
Try exfoliation with lemon peel powder. Just add a teaspoon of sea salt in a teaspoon of lemon peel powder. Add a few drops of rose water. Use this mixture as a scrub to peel the face, neck and even hands. Try this once a week but cleanse the skin smoothly.
Tip: 5
Lemon peels can act as the whitening agents as they contain citric acid. Try this remedy if you have oily skin. Take the teaspoon of lemon peel powder & mix a teaspoon of raw milk to it. This paste requires to have applied on the facial skin. After half an hour, rinse it off using the cool water.
Tip: 6
Lemon peels do have natural bleaching properties. Mix cucumber juice, lemon peel powder, rosewater and Multani mitti. The paste can have used as a mask that clears the surface.
Tip :7
Mix the teaspoon of sugar to the teaspoon of the lemon peel powder. Sprinkle some olive oil over it and make it a paste. You can smoothly scrub your body with the paste.
Photo credit : google search