Kitchen Tips To Peel Garlic In 5 Minutes
I watch my mother peeling garlic twice in the month and trust me it isn't an easy job. Firstly, the patience involved in the process is disturbing enough and to add to the menace the pungent aroma of garlic that lurks on your fingers… simply yuck!
If you want to help your mother into trying different ways to peel garlic, here are some of the kitchen hacks to introduce her too.
Cleaning or peeling garlic can be done in just about 5 minutes and guess what, it doesn't involve too much of your fingers too.
These simple Kitchen Tips To Peel Garlic In 5 Minutes that are mentioned her below will blow your mind. So, what are you waiting for, take a look at how you can put this idea to use and make peeling garlic the best job to do around your home.
Spare 5 minutes with this method and voila, you've got your garlic ready for your chicken dish: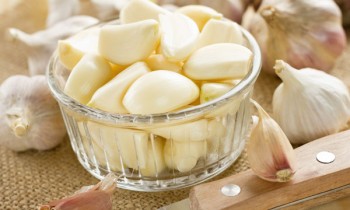 Trick 1 – In a container of water, soak the garlic along with the skin. After an hour remove the garlic and press it against the ground. The skin will automatically release from the pod.
Trick 2 – To peel garlic all you need to do is smash the garlic with a knife. Now place the garlic beneath your knife and firmly press on it with your palms.
Trick 3 – This is one of the best ways to peel garlic in less than 5 minutes. Place the whole garlic in the microwave and time for 30 seconds. When you remove it from the microwave, the skin will be roasted. Simply peel it off with ease.
Trick 4 – You can also use a skillet to chaar the skin if you don't have a microwave.
Trick 5 – The most common kitchen tip to peel garlic in 5 minutes is this trick. Place the garlic in a container with a lid and shake it vigorously for 5 to 9 minutes continuously. Soon the husk will separate leaving you with only the pods left. Isn't this the best way to peel garlic at home in minutes.